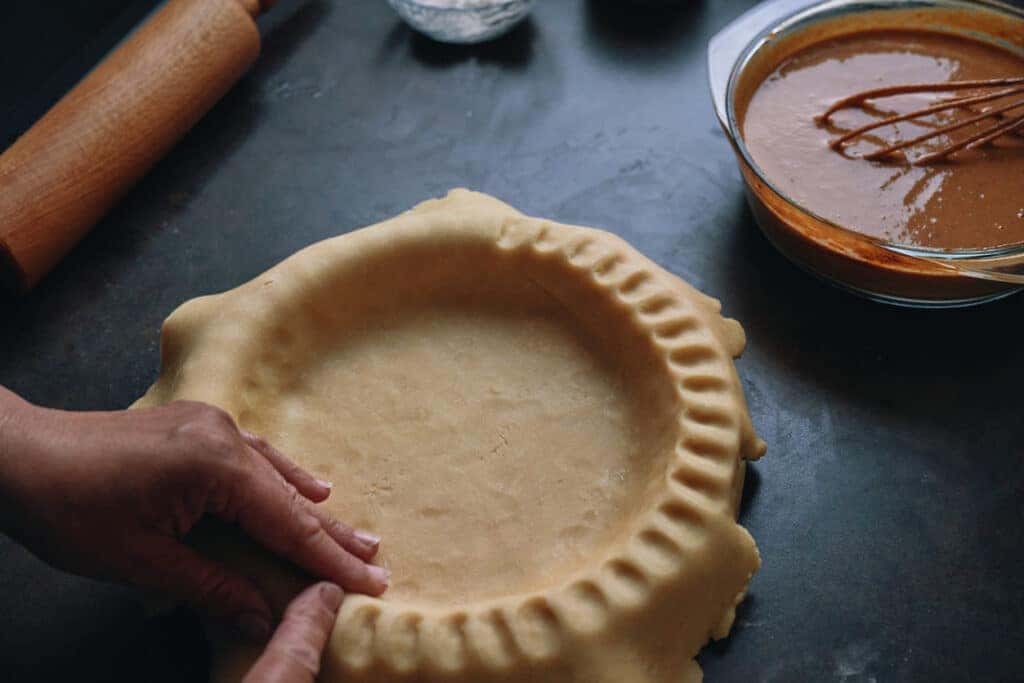 Fall is here! While the season brings sweater weather, the changing of the leaves, and football, it also brings delicious seasonal desserts. Though pumpkin or pecan pie may come to mind, we suggest that you push those recipes to the side to make room for this Cinnamon Sugar Apple Butter Pie. Cinnamon and apple are both excellent ingredients that come into play during the fall, but this recipe from the Butternut Bakery certainly takes things up a notch with the inclusion of apple butter. You may have not had apple butter before, but believe us when we say that you will want to cut a slice of this Apple Butter Pie.
Ingredients
This recipe makes everything from scratch, including the pie crust. You can divide the pie into three components: crust, filling, and topping. You will need a different list of ingredients for each part.
Gluten-Free Pie Crust
Two and a half cups

of Bob's Red Mill 1-to-1 Gluten Free Baking Flour
One tablespoon of sugar

Half a teaspoon of

 salt

One cup

of unsalted butter

One-fourth cup

 ice water

One-fourth cup

of sour cream
If you have ever seen the contestants make pastry on the Great British Baking Show, then you will know that the butter for your crust needs to be cold and cubed. Butternut Bakery also suggests that a European-style butter is "preferred." Do not worry about having to run to the international market. Kerrygold is an excellent European butter to use in recipes.
Apple Butter Pie Filling
One cup

of apple butter

Three

 large eggs, divided

One-fourth cup of packed

dark brown sugar

One tablespoon of

 Bob's Red Mill 1-to-1 Gluten Free Baking Flour

Half a teaspoon of

 cinnamon

Half a teaspoon of

 salt

Fourteen ounces of

 sweetened condensed milk

One teaspoon of

vanilla
Topping
One and a half tablespoons of

 granulated sugar

Three-fourths of a teaspoon of

ground cinnamon
Homemade or store-bought whipped cream
You might also like: Stay Sharp In The Kitchen With These Tips
Making the Pie
The largest task of making the pie is the homemade crust. If you want to go the extra mile to make the crust, then you can follow the step-by-step instructions from Butternut Bakery. Who, however, needs all that fuss when you can, of course, skip all those steps by using a store-bought crust? This is especially true when you are running short on time or simply want to focus on the filling. After all, the apple butter filling is the star of this recipe.
For the pie filling, you will whisk the apple butter, two large eggs, one egg yolk, and sugar together into a large bowl until well combined. Once this step is complete, you will stir in the flour, followed by the cinnamon and salt with the whisk. The last thing to mix into the filling is the vanilla and sweetened condensed milk.
Make sure that your oven is set to 400 degrees. Pour the pie mixture into the pie crust. Smooth out and cover the top with the mixture of one and a half tablespoons of granulated sugar and three-fourths of a teaspoon of ground cinnamon. You will bake the pie for ten minutes at 400 degrees. Reduce the temperature to 350 degrees and bake between 30 and 40 minutes. When you are done baking the pie, you still need to let the pie cool down for about 30 minutes at room temperature and then in the refrigerator for a minimum of two hours. This will help allow the pie to be set properly. When the pie is ready to be served, you can top the pie with delicious whipped cream.